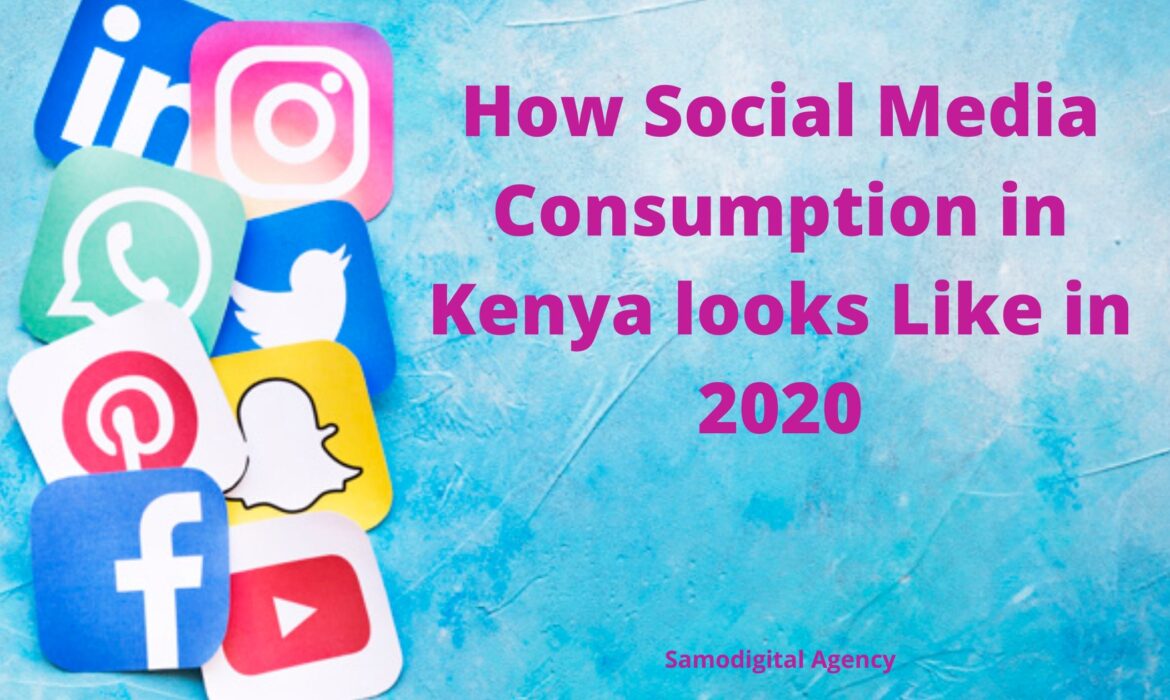 Kenya Social Media Statistics 2020 Social Media Usage in Kenya
How is social media consumption in Kenya in 2020?
If you are living it in this era, you must have used any form of social media, if not a majority of social media platforms.  They are different social media platforms across the globe, with some that keep emerging. In Kenya, where there is an increase in internet connectivity and usage in mobile devices, we have seen brands and individuals use social media to interact and build online communities, among others. But how are Kenyans using social media in 2020? In this article, we look at social media consumption in Kenya in 2020.
What is Social Media?
Before we look at the social media statistics in Kenya in 2020, we must first define the term
social media. Social media can be plainly defined as tools or platforms that are internet-based that enables you to connect, communicate, interact, and share content instantly and efficiently.   Some of the popular social media platforms include Facebook, Instagram, WhatsApp, TikTok, Twitter, Snapchat, YouTube, Pinterest, LinkedIn, to mention a few. Each social media has different usage and set of rules. In our next article we look at How Kenyans are Using Social Media. Keep checking on our blog for the next article.
What is the Average Daily time spent on Social Media?
 The Global Webindex social media report shows that globally, digital consumers are now spending an average of 2 hours and 24 minutes per day on social networks and messaging apps. Now, narrowing it down to Kenya, the 
SIMElab report shows that a vast majority ofKenyans spend more than 1 hour per day on social media. Click To Tweet
.
At What Time Do Kenyans Spend Time on Social Media the Most?
A majority of Kenyans spend more time on social media at night and the evening with the least hours being in the morning. Click To Tweet This data is crucial for you as a brand so that you can know when it is the best time to post your content on social media.

Times when Kenyans spend most time on social media 2020. Source: SIMElab report 2020
Also Read: India Bans 59 Chinese Apps including TikTok, UC Browser and ShareIT
An Overview of Top 7 Social Media Consumption in Kenya in 2020
According to the Kenya Social Media Landscape report, 2020 by USIU University SIMElab, the WhatsApp, Facebook, and YouTube are the most used social media platforms in Kenya.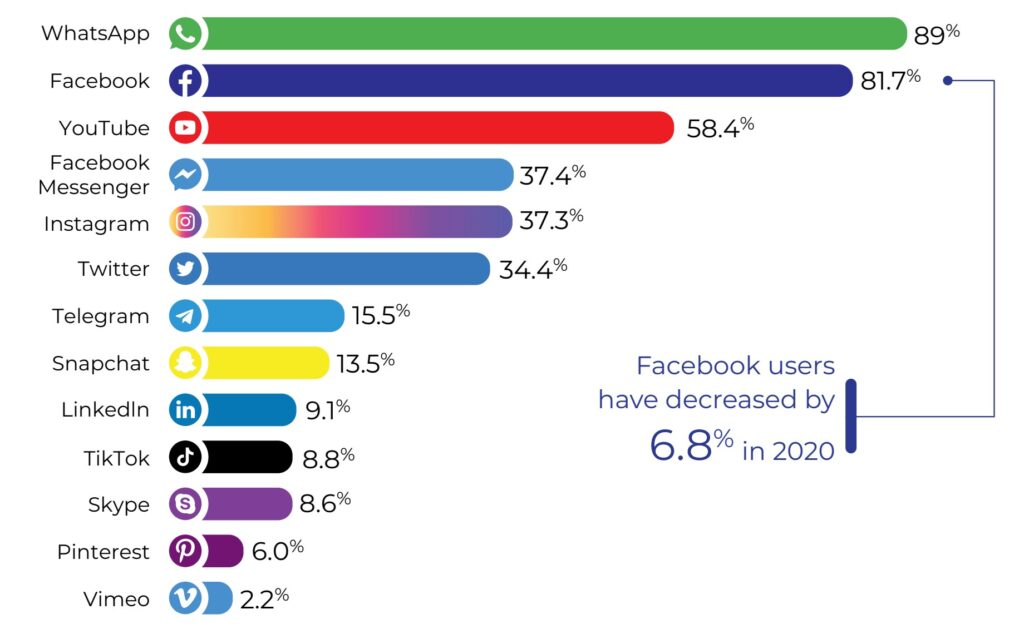 Social media consumption in Kenya 2020. Source: SIMElab report
1.      WhatsApp
The report shows that the most used social media in Kenya is WhatsApp. WhatsApp users in
Kenya amount to 89%, and it is most popular among people above 45 years. 54.5 percent of Male use WhatsApp compared to 45.4 % of females who use WhatsApp.
Daily Usage of WhatsApp by Kenyans
Looking at the report, it shows that 91% of WhatsApp users access the channel daily, with 8%accessing it weekly, while 1% use it less often. Moreover, more than 30% of Kenyans 1-2 hours on WhatsApp.
2.      Facebook
Although
Facebook users in Kenya have declined by 6.8% in 2020, Facebook is still the
second most used social media in Kenya. The Facebook users in Kenya in 2020
amount to 81.7% according to the report. When it comes to usage by age, the
report shows that Facebook is the most preferred platform for between 36-45
years at 13.1 percent. As for the gender, Facebook is popular among Kenyan
males, with 55.3 using it compared to 44.6 of females.
Daily Usage of Facebook by Kenyans in 2020
From the report, we see that 77% of Facebook users access Facebook daily with 19% accessing it weekly, whereas 4% access it less often .31 % of Kenyan Facebook users spend between 30 minutes to 1 hour on Facebook.
Also Read: Check Out How Much Time You Spend on Facebook And Act Now!
3.      YouTube
The third most used social media platform in Kenya is YouTube.  Yes, YouTube. I am sure you must have subscribed to a channel of your favorite vlogger, and you pop in there to check what is new. According to the data, YouTube users in Kenya in 2020 are 58.4%,
with males dominating this platform at 56.8% and females at 43.2%. Notably, YouTube in Kenya is used for entertainment purposes.
Daily Usage of YouTube by Kenyans in 2020
As for YouTube, 67% of Kenyans use YouTube daily, 28% use it weekly, whereas 6% use it
less often.  Also, 27% of Kenyan YouTube users use YouTube for about 30min to 1hour
4.      Facebook Messenger
The fourth most used social media in Kenya is Facebook Messenger, a messaging platform
that is a product of Facebook. The Facebook Messenger users in Kenya are 37.4 %,
where 43.8% are female, and 56.2% are male. What sounds out on the social media
demographics of Facebook Messenger is that it is the most preferred social
media for Kenyans in Rural areas.
"A majority of Kenyans in the rural areas use Facebook Messenger (45.3%), (44.5%) and WhatsApp (44.2%), compared to a majority of urban residents who use TikTok (67.9%),
Vimeo (67.4%), and Pinterest (63.4%)." Stated in the report.
Daily Usage of Facebook Messenger by Kenyans in 2020
 For people who prefer Facebook Messenger, the majority, which is 38%, use it for only less than 30 minutes. Also, 73% of Facebook Messenger use it daily, while 22% using weekly, and 5% use it less often.
5.      Instagram
Instagram comes at the fifth position as the most used social media platform, with its
users being 37.3% almost tying with Facebook Messenger.  Looking at Instagram by gender in Kenya, the data indicates that 55.1% of males use Instagram compared to 44.8%female.
Daily Usage of Instagram by Kenyans in 2020
67% of Kenyans use Instagram daily, 26% use it weekly, and 6% use it less often. Kenyan
Instagram users also show that the majority spend less than 1hour on Instagram
daily.
6.      Twitter
Have you been
wondering about the number of Twitter users in Kenya 2020? Well, the report
shows that 34.4% of Kenyans use Twitter, and it is 6th most social
media in Kenya. Kenyans mainly use Twitter for Politics.  Moreover, Twitter is actively used by Kenyans
between the 26-35 years, just like Skype and LinkedIn.  Looking the gender, it is also male that dominates
Twitter at 59.5% compared to females at 40.4%.
Daily Usage of Twitter by Kenyans in 2020
The daily usage of Twitter is 68% of Kenyans, with 26% using it weekly a 6% using less
often. Kenyans spend less 1hour on Twitter daily.
7.      Telegram
The last social media usage platform that we are going to discuss in this article is
Telegram. Telegram is the 7th most used social media in Kenya, with its users amounting to 15.5%. It is also mostly used by Kenyans between the age of 21-25 years.  As for usage by gender, males dominate Telegram usage at 66.1% while female's usage is at 33.8%.
Daily Usage of Twitter by Kenyans in 2020
Telegram is accessed daily by 55% of Kenyans, 29% access it weekly, and 15% access it less often. 38% access the platform less than 30 minutes per day
The other social media platforms in Kenya are Snapchat at 13.5%, LinkedIn at 9.1%, TikTok
8.8%, Skype 8.6%, Pinterest 6.0 % and Vimeo at 2.2%
For the last few days, we have seen big brands like CocaCola, Starbucks, Diageo, Unilever either pause ads or stop ads on Facebook as part of the 'Stop Hate for Profit' campaign. Now, the Indian government has banned 59 Chinese apps including the Popular TikTok, Shareit, UC Browser etc. apps citing privacy concerns
Their Ministry of Information and Technology has said that it "has received many complaints from various sources including several reports about the misuse of some mobile apps… for stealing and surreptitiously transmitting users' data in an unauthorized manner to servers which have locations outside India."
The list of 59 Chinese apps banned in India
Here's the complete list of the apps banned:
1. TikTok
2. Shareit
3. Kwai
4. UC Browser
5. Baidu map
6. Shein
7. Clash of Kings
8. DU battery saver
9. Helo
10. Likee
11. YouCam makeup
12. Mi Community
13. CM Browers
14. Virus Cleaner
15. APUS Browser
16. ROMWE
17. Club Factory
18. Newsdog
19. Beutry Plus
20. WeChat
21. UC News
22. QQ Mail
23. Weibo
24. Xender
25. QQ Music
26. QQ Newsfeed
27. Bigo Live
28. SelfieCity
29. Mail Master
30. Parallel Space
31. Mi Video Call – Xiaomi
32. WeSync
33. ES File Explorer
34. Viva Video – QU Video Inc
35. Meitu
36. Vigo Video
37. New Video Status
38. DU Recorder
39. Vault- Hide
40. Cache Cleaner DU App studio
41. DU Cleaner
42. DU Browser
43. Hago Play With New Friends
44. Cam Scanner
45. Clean Master – Cheetah Mobile
46. Wonder Camera
47. Photo Wonder
48. QQ Player
49. We Meet
50. Sweet Selfie
51. Baidu Translate
52. Vmate
53. QQ International
54. QQ Security Center
55. QQ Launcher
56. U Video
57. V fly Status Video
58. Mobile Legends
59. DU Privacy
TikTok demographics shows India is its biggest overseas market for TikTok. 43% of TikTok users are Indians, that is over 120 million active users. Moreover, Apps like ShareIT were enjoying an Indian market share of 200 million monthly active users. A browser app like UC browser had garnered up to 130 Million users.
Image source: economictimes.indiatimes.com
What is the impact of the ban?
Users will have to look for alternatives.
Job loss because the majority of the banned platforms have Indians as content creators.
I foresee a standoff between these two world's most populated countries
 YouTube has "won" the war cause now there will be a shortage of videos.