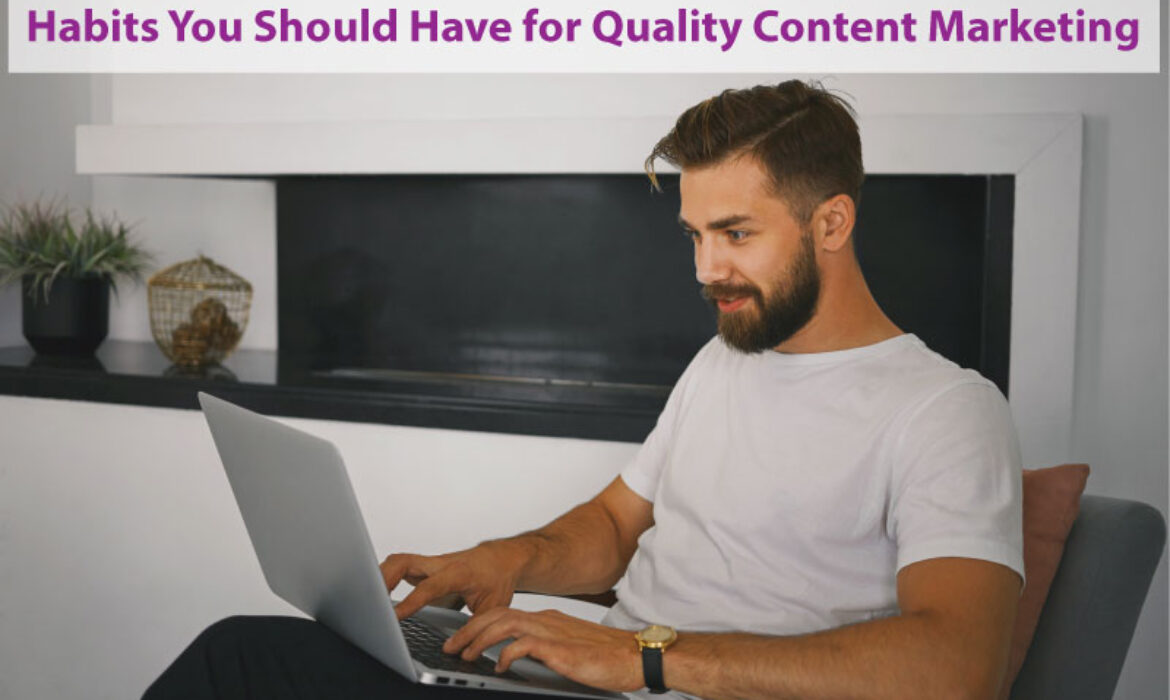 Why Quality Content?
"Google only loves you when everyone else loves you first." – Wendy Pier.Google only loves you when everyone else loves you first. Click To Tweet To rank on Google's top page, you should create content that is in line with Google's Algorithm. It is not just about ranking top on the Google search engine but creating authentic and valuable content for your target audience
"Google wants to reward high-quality sites that contain original content. So not only does great content make a better website, but it also improves your site's rankings, which can have a very positive impact on your business.t that is useful to your audience." Says Neil Patel, the co-founder of Crazy Egg, Hello Bar and KISSmetrics.
Therefore, there is a need to create quality content for your website or blog post. Now, let us look at habits you need to have to create quality content for any SaaS tool
1.    
Have a SaaS Content Marketing Strategy
Having a strategy is a key ingredient in producing quality content.  Set out your goals, establish KPIs, profile your target audience, choose content type, and determine how you will measure the results.  As a content marketing team, ensure that you meet weekly or daily to discuss your content marketing strategy. The meetings have proven to be yield good results for content marketing. According to the B2B content marketing report, effectiveness is greater among teams that meet more frequently (61% of the most effective B2B marketers meet daily or weekly).
With the Covid-19 pandemic forcing organizations to work remotely, you can still have meetings virtually via video conferencing tools like Zoom, Google Hangouts, Skype, etc.
If you are a sole content marketer, you still need to evaluate your content marketing strategies and plan.
2.    Create Original Content
Always create original content that resonates well with your brand audience. Google does not like plagiarized content, and you will be punished for that. As a matter of fact, there many contents out there that you can reference but do not copy and paste the content to your website.
3.      Update Your Content
Effective SaaS content marketing is not always about creating new content only. It is also about updating the existing articles, How-to topics, blog posts or any content on your website.  Google Search Console is a great platform to give you clues on what you need to update on your existing articles.  You will find new search terms that will enable you to add or remove from your existent article. Take, for example, if you are into the SaaS industry and your company has added a new feature that is useful during the Covid-19 pandemic or software user interface has been updated. You have articles written base on the old interface. Is it not time to update them?
4.      Your Content Should Provide Answers
When writing SaaS content, write content that provides solutions to your readers or clients. Write educational content and avoid promotional content. When writing SaaS content, write content that provides solutions to your readers or clients. Write educational content and avoid promotional content Click To Tweet A person clicks on a link to your article because they know the article will provide an answer to what they have queried on the search engine.  Neil Patel adds by saying that "people don't just want answers, they want answers fast. So, make your content easy to scan so people can pick up the juicy, important bits quickly."
5.      Monitor Brand Mentions
There are plenty of reasons why you need to track your brand mentions online. An online user can review your product or service and they fail to link back to your site. In this case, you will have a great reason to reach them out and request them to link back. On the other hand, if it is a negative review, you will reach out to them and handle the situation before it gets worse.
Use tools like Google Alerts, Brand24, Brandmentions, Semrush Branding monitoring, among others, to monitor your brand online.Use tools like Google Alerts, Brand24, Brandmentions and Semrush Branding monitoring tool to monitor your brand online. Click To Tweet
6.      Incorporate Images and Videos
The best way customers can learn and feel about your product or service is by adding images and videos to your website content. Using the visuals graphics illustrates the point you are making clearly.  For instance, you are writing an article on installing or using your app or software. Using images for each step provides the reader with a clear step on what they need to do.
7.      Share your Content
After writing your content or creating those beautiful infographics, you need to share them with your communities. Publish the content on your blog, share the content on social media and forums like Quora. Sharing content creates engagement, brand awareness, generates a lead, increases sales, and leads to upselling or cross-selling.
With that in mind, always add a call to action in your articles.
8.      Monitor and Evaluate your Content Performance
Now, you have created your content, published it and shared it with your community. What next? What follows is for you to monitor and track the performance of your content. A good web monitoring tool you can use is Google analytics. It well helps you monitor your website activities such as real-time traffic, pages per session, bounce rate, traffic channels, user's behaviour and devices they use etc.
From the Google web insights, you will be to understand your target audience, improve your site performance, and improve your SEO content.
Wrap Up
Quality and creativity are key to SaaS content marketing that you can infuse into your overall digital marketing strategy.  When creating content, always provide value to your customers and be simple and straightforward. Keep updating your content, and remember to evaluate your content performance.
In an event where you want a SaaS content writer or tech writer to write articles, blog posts, guest posts, press release or editorials, Samodigital Agency can do that for you. Send an email at egline@samodigitalagency.com. You can also follow Egline on LinkedIn and Twitter.