Telegram was Most Downloaded App Globally in January 2021 as WhatsApp Drops to 5th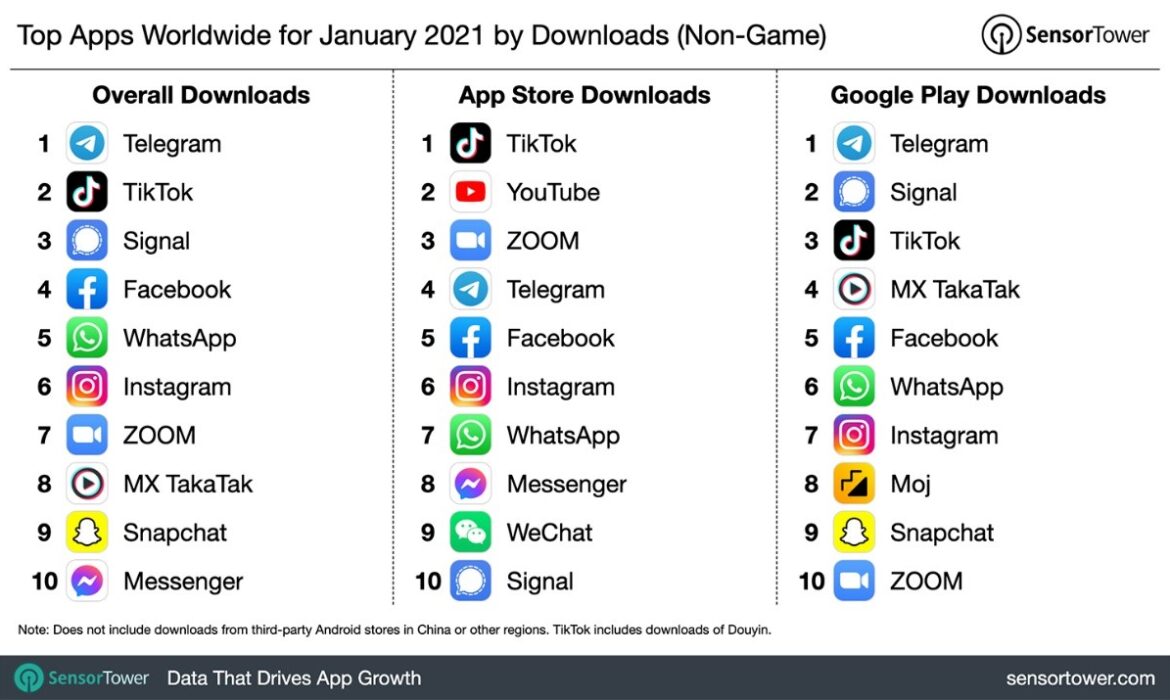 Telegram was the most downloaded non-gaming app worldwide for January 2021. It had more than 63 million installs, 3.8 times its downloads in January 2020.
Click To Tweet
The countries with the most significant number of Telegram installs were India at 24 percent, followed by Indonesia at 10 percent, according to the latest data provided by
Sensor Tower Intelligence
.
Why the Sudden Surge in Telegram Downloads?
Ever since WhatsApp announced their new privacy policy in January 2021 that WhatsApp users would essentially be sharing more of their in-app data with Facebook, users were not comfortable with the update and began looking for alternative messaging apps.  The most favourable WhatsApp messaging apps became Telegram and Signal.
December 2020 Vs. January 2021 Non- Gaming Top Apps Worldwide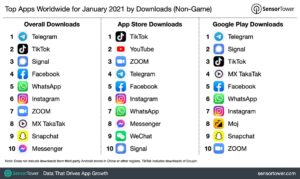 As you can see from the top apps worldwide for January 2021 Chart, Telegram became the most downloaded app globally. It was then followed by TikTok and Signal in the third position. WhatsApp was the fifth most downloaded app down from 3rd position in December 2020.
If you break it down per digital distribution service,Telegram was the most downloaded app on the Google play store, while Signal was the second most downloaded app, with WhatsApp dragging at the sixth position. On the contrary, TikTok was the most downloaded app on the App… Click To Tweet
In December 2020, TikTok was the most downloaded non-gaming app worldwide for December 2020, with close to 56 million installs. According to analytics by Sensor Tower, the countries with the largest number of TikTok installs were from Douyin in China at 11 percent, followed by the United States at 10 percent.
WhatsApp was topping at top 3, while Telegram was the 9th most downloaded app and the Signal app is missing out in the top 10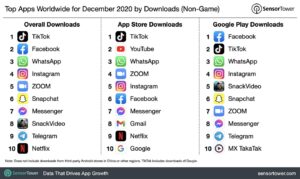 Bottom Line
The WhatsApp privacy update backlash led to an increase in downloads of Telegram and Signal messaging apps.  Since WhatsApp announced a three-month delay of a new privacy policy initially slated to go into effect on February 8th, how will it impact the February downloads? That is something worth watching!
Follow Egline Samoei on Twitter
Egline Samoei
Egline Samoei is tech writer who loves to write about Digital Marketing, Social Media Trends, SaaS content, AI, Big data and emerging trends. She a certified digital marketer and has a certifications in Data Science using Python, Google Analytics, Waze Ads, Google Ads and Internet Governance from Kictanet.